In 1944, George Stinney Jr. was 14 years old when he was executed in South Carolina. It took only ten minutes to convict him — and 70 years to exonerate him.
In 1944, George Stinney Jr. was 14 years old when he was executed in South Carolina. It took only ten minutes to convict him — and 70 years to exonerate him.
George Stinney Jr., an African-American 14-year-old, was the youngest person in the United States to be executed in the electric chair. In the midst of the Jim Crow era, he was executed in the Deep South in 1944.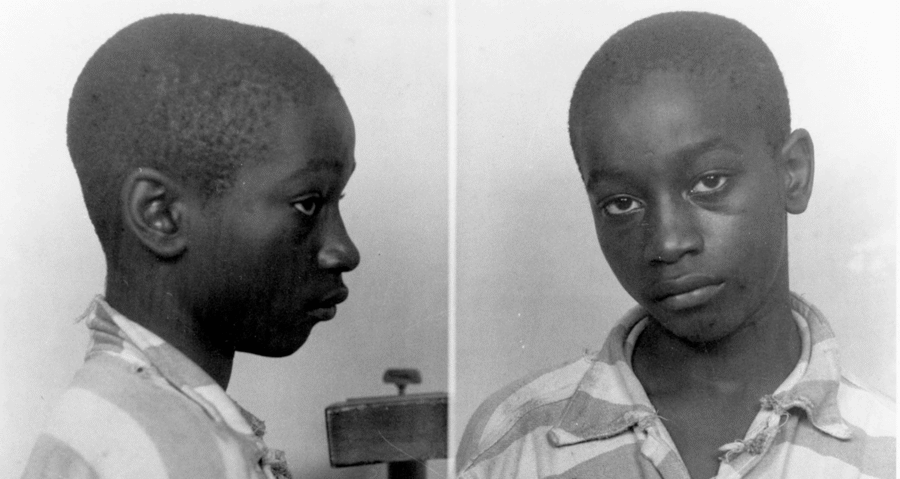 George Stinney Jr. grew up in the segregated mill town of Alcolu, South Carolina, where railroad tracks separated white and black residents. Stinney's family resided in a run-down business house until the young kid was suspected of murdering two white girls and was forced to flee.
It took a jury of white men 10 minutes to find Stinney guilty — and it would take 70 years before Stinney was exonerated.
The Murder Of Betty June Binnicker And Mary Emma Thames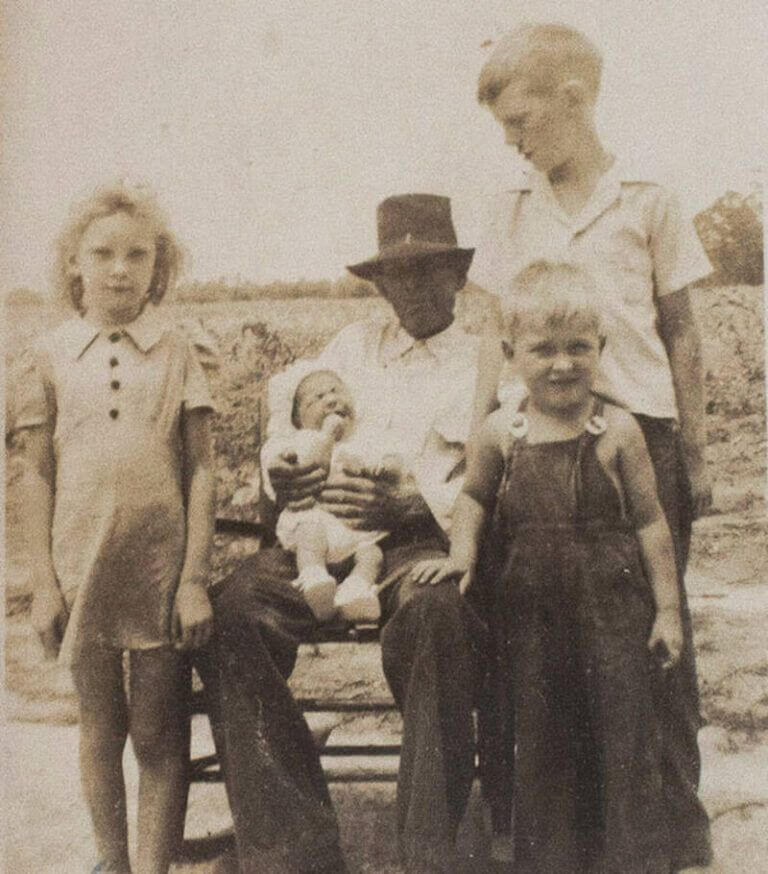 Betty June Binnicker, 11, and Mary Emma Thames, 7, were exploring for flowers on their bicycles in Alcolu in March 1944. During their quest, they came across Stinney and his younger sister Aime and inquired if they knew where they might obtain maypops, the yellow delicious fruit of passionflowers.
According to reports, that was the last time the girls were seen alive.

Binnicker and Thames, both white, did not return home that day. Hundreds of Alcolu villagers, including Stinney's father, banded together to hunt for the missing girls after they vanished. Their bodies were not discovered in a muddy ditch until the following day.
There was no evident trace of a struggle when Dr. Asbury Cecil Bozard inspected their bodies, but both girls had died terrible deaths including multiple skull trauma.
Thames had a two-inch-long cut above her right eyebrow, as well as a hole boring straight through her forehead into her skull. Binnicker, meantime, had taken at least seven hits to the head. The rear of her head was later described as "nothing but a mess of smashed bones."
Binnicker and Thames had wounds made by a "round device roughly the size of the head of a hammer," according to Bozard.
A rumor circulated in town that the girls had stopped at the home of a prominent white family on the day they were murdered, but this was never proven. And the cops didn't appear to be on the lookout for a white killer.
Officers from Clarendon County responded to Stinney's residence after receiving information from a witness that Binnicker and Thames had been spotted chatting to him. George Stinney Jr. was immediately handcuffed and interrogated in a small room for hours without the presence of his parents, a counsel, or any witnesses.
A Two-Hour Trial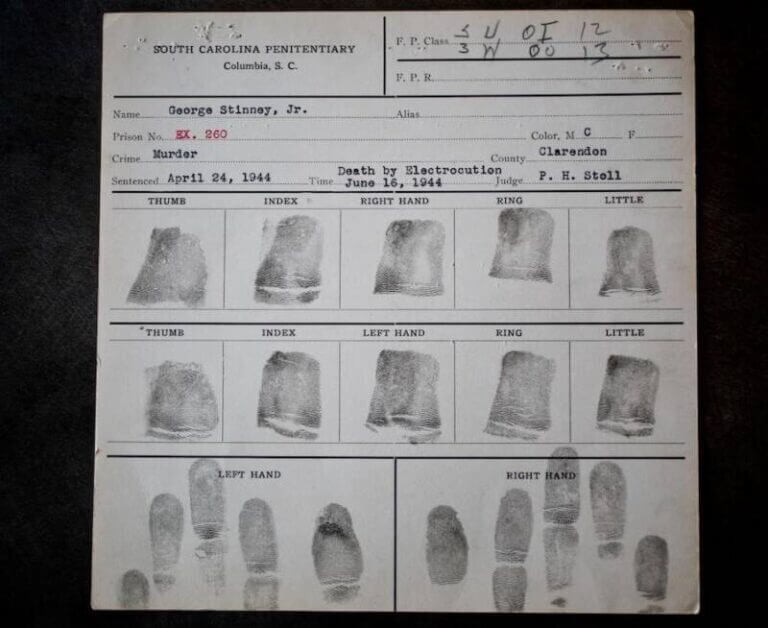 H.S., a police officer, "I arrested a boy by the name of George Stinney," Newman stated in a handwritten statement. He then made a confession and told me where to find a 15-inch-long piece of iron. He said he dumped it around six feet away from the bicycle in a ditch."
As reports of a lynching grew across the village, Newman refused to identify where Stinney was being held. As his trial drew nearer, not even his parents knew where he was. At the time, 14 was thought to be the age of responsibility, and Stinney was suspected of murder.
George Stinney Jr.'s trial began about a month after the girls' deaths in a Clarendon County courthouse. Charles Plowden, a court-appointed attorney, did "little to nothing" to defend his client.
During the two-hour trial, Plowden failed to summon witnesses to the stand or provide any evidence that might cast doubt on the prosecution's case. Stinney's supposed confession was the most important piece of evidence brought against him, however there was no written record of the kid admitting to the murders.
Stinney hadn't seen his parents in weeks by the time of his trial, and they were frightened of being attacked by a white crowd if they came to the courthouse. As a result, the 14-year-old was surrounded by strangers – possibly as many as 1,500.
The all-white jury found Stinney guilty of murder after less than 10 minutes of deliberation, with no recommendation for compassion.
The teen was condemned to death by execution on April 24, 1944.
The Execution Of George Stinney Jr.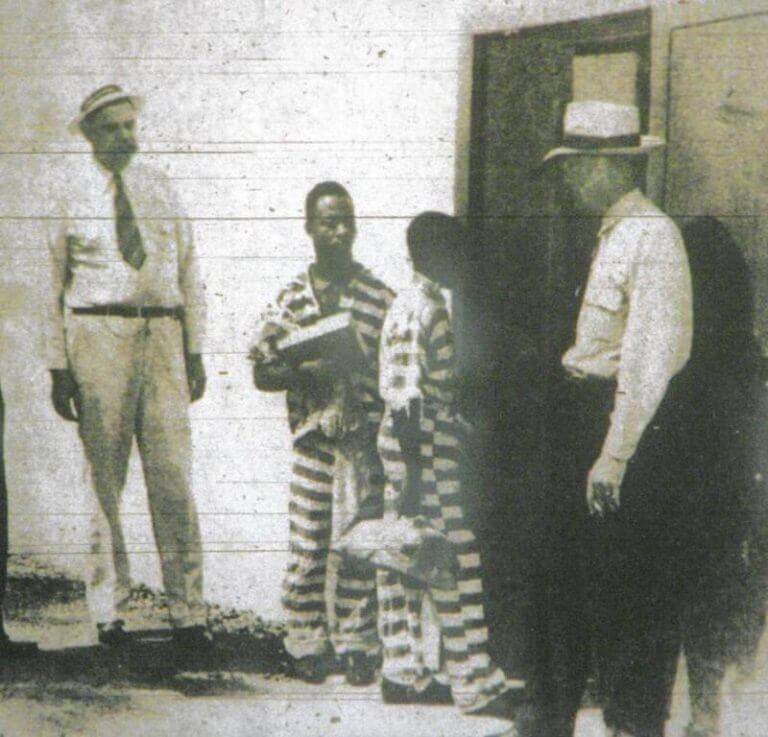 The execution of George Stinney Jr. was met with opposition. Organizers for both white and black ministerial unions petitioned Gov. Olin Johnston in South Carolina to grant Stinney clemency due to his youth.
Hundreds of letters and telegrams rushed into the governor's office, pleading with him to spare Stinney's life. Stinney's supporters used a variety of arguments, ranging from basic fairness to Christian justice. But none of it was enough to save Stinney in the end.
With a Bible tucked under his arm, George Stinney Jr. stepped into the execution chamber at the South Carolina State Penitentiary in Columbia on June 16, 1944.
He was dressed in a loose-fitting striped jumpsuit and weighed only 95 pounds. He was so little that the state electrician struggled to fix an electrode to his right leg while strapped into an adult-size electric chair. Over his face was placed a mask that was too big for him.
Stinney was asked whether he had any final words by an assistant captain. "No sir," Stinney said. "You don't want to speak anything about what you did?" the jail doctor prodded. "No sir," Stinney said once more.
When the switch was flipped on, 2,400 volts rushed through Stinney's body, forcing the mask to fall off. His eyes were tearful and big, and drool was dripping from his mouth, visible to all in the room. After two more jolts of electricity,
Shortly later, Stinney was pronounced dead. The boy was charged with murder, tried, convicted, and killed by the state in just 83 days.
A Murder Conviction Overturned 70 Years Later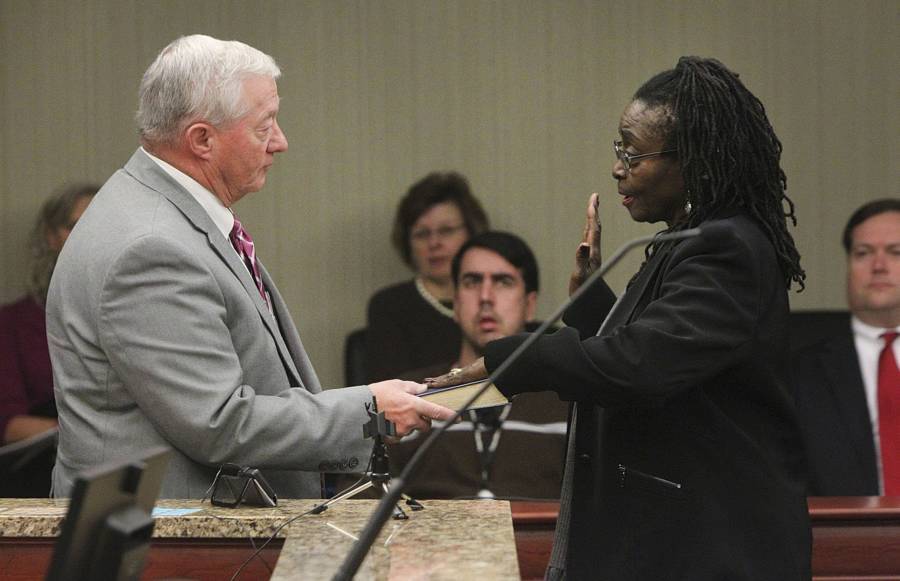 In 2014, George Stinney's murder conviction was overturned. His brothers claimed that he was pressured into confessing and that he had an alibi: he was monitoring the family's cow with his sister Aime at the time of the murders.
They also mentioned that Stinney denied murdering Binnicker and Thames, according to a man named Wilford "Johnny" Hunter, who claimed to be his cellmate.
"He said, 'Johnny, I didn't do it,'" Hunter explained. "He responded, 'Why would they kill me for something I didn't do? '"
Judge Carmen T. Mullen dismissed Stinney's murder conviction on Dec. 17, 2014, after months of deliberation, calling the death penalty a "great and fundamental injustice."
George Stinney Jr.'s siblings were ecstatic to find that their brother had been exonerated after 70 years, and they were grateful that they had lived long enough to witness it.
Katherine Robinson, Stinney's sister, described it as "like a cloud moving away." "We were sitting with friends when we got the news... I threw up my hands and exclaimed, 'Thank you, Jesus!' 'I knew someone was listening.' It's exactly what we've been hoping for all these years."