A Malawian teenager who taught himself how to build a windmill out of junk and bring power to his village. He then went on to build a second, larger windmill to power irrigation pumps. He did this all from books he read in the library.
Self-taught William Kamkwamba has received praise from business leaders and climate change activists all around the world, including Al Gore.
Given that he was forced to leave school at age 14 because his family could no longer afford the $80-a-year (£50) tuition, his incredible achievements are all the more impressive.
His prospects appeared limited when he returned to his parents' modest acreage in the Masitala community in rural Malawi.
However, this was not another story of how poverty has hampered the promise of Africa.
Defense against hunger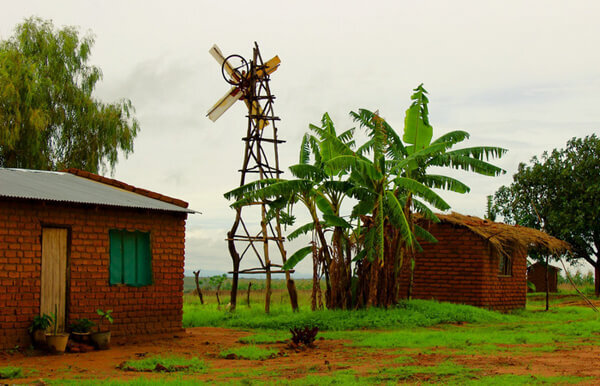 The village in which the kid lived has never had running water or electricity.
And he wasn't going to wait for officials or humanitarian organizations to act on his behalf.
After one of Malawi's worst droughts, which resulted in thousands of deaths and put his family in danger of starving in 2002, there was an even greater need for action.
Because he was unable to go to school, he continued his studies by accessing a nearby library.
His life was forever altered when, as a science enthusiast, he picked up a worn-out textbook and discovered a drawing of a windmill.
"I was quite excited when I discovered the windmill could create energy and pump water," Mr. Kamkwamba told the BBC News website.
I reasoned, "That might be a defense against hunger. Perhaps I might construct one for myself."
He labored on his prototype while working with a paraffin lamp in the nights when he wasn't helping his family grow maize.
But his clever proposal was met with blank stares in his 200-person community.
He says that "many, including my mother, feared I was going mad." They had never before seen a windmill.
The shock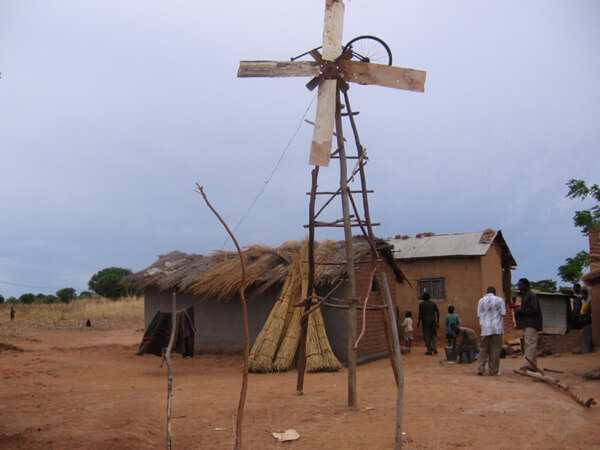 The fact that the boy spent so much time exploring trash dumps further confused the neighbors.
People mistook me for a pot smoker, he claimed. I explained to them that I was merely creating something for juju (magic), and they said, "Ah, I understand."
Mr. Kamkwamba, who is now 22 years old, made the blades for the turbine out of plastic tubing that had been flattened by being held over a fire, together with a tractor fan blade and an old shock absorber.
In a regretful recollection of his months of laborious labour, Mr. Kamkwamba recounts, "I got a couple electric shocks climbing the [windmill]."
The completed design, a 5-m (16-ft) tall blue-gum tree wood tower that was swaying over Masitala, appeared to be little more than a vain tinkerer's blunder.
However, when Mr. Kamkwamba climbed the windmill and attached a vehicle light bulb to the turbine, his neighbors' amusement quickly turned to surprise.
A gathering of amazed witnesses went wild when the light sparked to life and the blades started to spin in the breeze.
The genius child's 12-watt marvel soon began supplying power to his family's mud-brick home.
Electric wind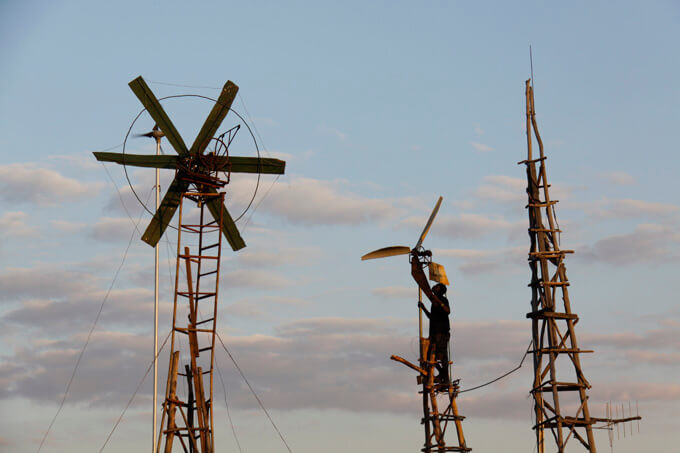 The paraffin lanterns were replaced with light bulbs, a circuit breaker fashioned from the magnets and nails from an old stereo speaker, and a light switch constructed from bicycle spokes and flip-flop rubber.
Soon, locals began standing in line to charge their phones.
When a writer from the Daily Times newspaper in Blantyre produced an article about Mr. Kamkwamba in November 2006, the story was propelled around the blogosphere.
While doing this, he added water storage tanks, constructed a mechanical pump powered by solar energy above a borehole, and provided the area around his town with its first source of potable water.
Having had the wooden base of his initial windmill eaten away by termites, he upgraded it to 48 volts and anchored it in concrete.
Then he constructed a second windmill, which he called the "Green Machine," to drive a water pump that irrigated his family's field.
Soon, people from all over the place came to watch at the boy prodigy's magetsi an mphepo, or "electric wind."
He received an invitation to the famous Technology Entertainment Design conference in Arusha, Tanzania, in the middle of 2007 as word of his renewable energy projects spread.
Cheetah generation
He remembers how thrilled he was to use a computer for the first time at the occasion.
He remarks, "I had never seen the internet, it was incredible. "I Googled windmills and discovered a lot of information."
Standing ovations followed the native Chichewa speaker's hesitant onstage retelling of his tale as he moved the jaded venture capitalists.
He was then featured on the Wall Street Journal's main page in a glistening photograph.
He is currently enrolled on scholarship at Johannesburg, South Africa's prestigious African Leadership Academy.
The world is at Mr. Kamkwamba's feet, but he is determined to go home after his studies. He has been flown to conferences all over the world to share his life story.
With only 2% of Malawians having access to electricity, the local hero wants to finish providing power to the entire country.
I want to use everything I've learnt to benefit my country, he declares. I believe there is a great deal of work to be done.
Bryan Mealer, a former reporter for the Associated Press news agency, had been covering conflict in Africa for five years when he learned Mr. Kamkwamba's tale.
The amazing event was the kind of inspiring tale that New Yorker Mealer had long wished to write about.
The Boy Who Harnessed the Wind, which has just been released in the US, was written by the author for a year with Mr. Kamkwamba.
Mealer claims that Mr. Kamkwamba is a representative of Africa's new "cheetah generation," a group of youthful, tech-hungry individuals who are taking charge of their own fate.
The 34-year-old Mr. Mealer says, "Spending a year with William writing this book reminded me why I fell in love with Africa in the first place.
It's the kind of story that reminds us of our own potential and connects with every person.
How long until the film rights to the inspirational tale of overcoming adversity are bought up and William Kamkwamba, the young man who dared to dream, appears on the big screen?