Terry Fox was a 21-year-old one-legged cancer patient who ran 3,339 miles across Canada in 143 days before dying.
An 18-year-old was traumatized in a car accident in 1976. He was rear-ended by a truck, completely totaling his own vehicle. Surprisingly, the young man was unharmed after the collision.
Only his knee hurt, which he attributed to the collision. But the discomfort persisted. He played basketball frequently in school and believed that the pain was brought on by too much stress.
But the pain persisted after the basketball season was over, so he made the decision to see a doctor. He was identified as having osteogenic sarcoma, a bone cancer that frequently begins in the knee and spreads rapidly, four months after his accident. The doctors knew right away that amputating his leg and then starting chemotherapy would give him the best chance of survival.
Five days after his diagnosis, on March 9, 1977, medical professionals amputated his right leg 15 cm above the knee.
Running 143 Consecutive Marathons
Terry Fox was a young man, and like any other 18-year-old, he was completely shocked to learn that he had cancer.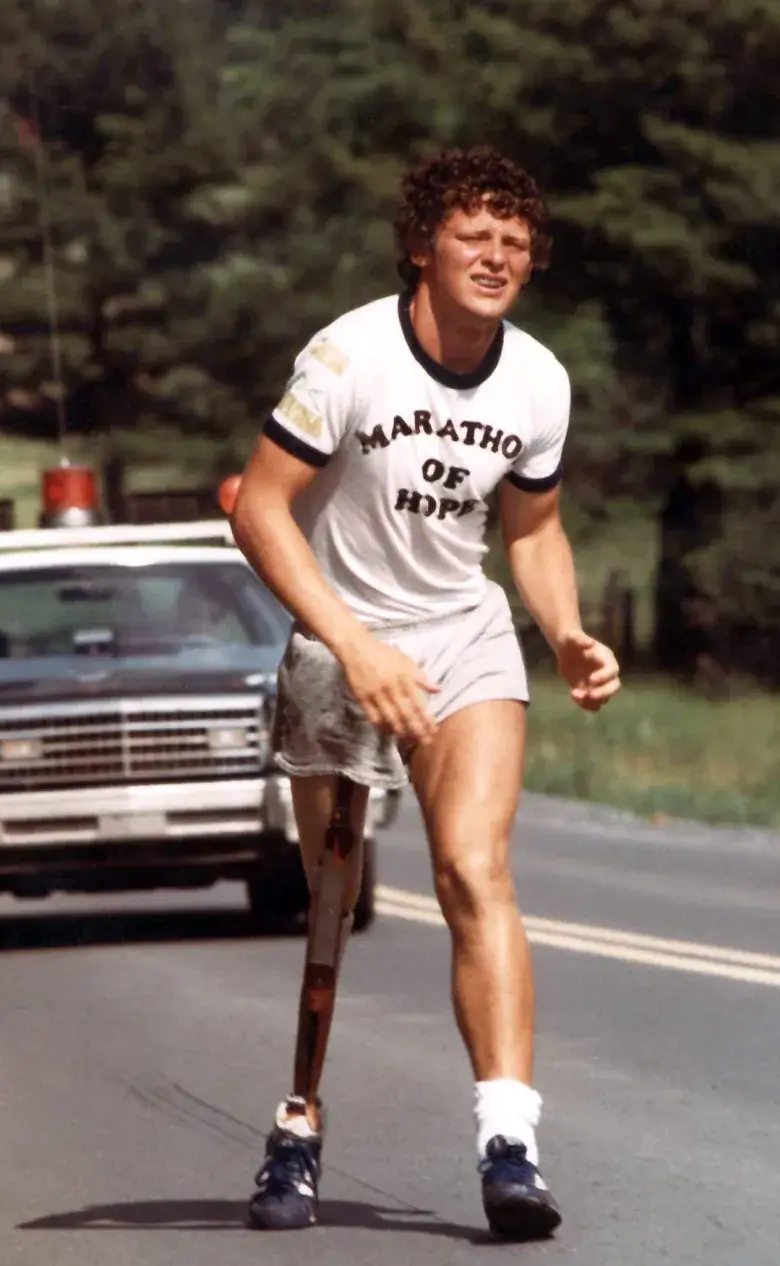 It is challenging to comprehend what a diagnosis like this means when your entire life is in front of you. No matter how emotionally intelligent you are, you will never be able to feel what Terry Fox felt during those moments.
But he didn't stay on his situation. He didn't turn bitter. In fact, Terry Fox was already playing golf with his father on an artificial leg just a few weeks after his leg was amputated. But the cancer did not go away. He underwent chemotherapy for almost one and a half years following the operation.
He witnessed the suffering of other cancer patients during that time, which had an impact on Fox. He made the decision to run across Canada to raise awareness for cancer after being inspired by Dick Traum, an amputee who had completed the New York City Marathon.
The "Marathon of Hope" was founded in this manner. On April 12, 1980, on Canada's east coast, Terry Fox started his nearly impossible feat after more than a year of training.
He ran a marathon every day for 143 days. Recall that Terry Fox was a cancer patient who could only use one leg. He ran despite the pain, wind, rain, and storm.
He did something that no one had ever done, despite the fact that he never finished his marathon. Cancer spread to his lungs after 5,372 km (3,338 miles), forcing him to stop on September 1st, 1980. Terry passed away ten months later, 30 days before turning 23.
Confronting Pain
What motivated this man? Terry Fox stayed strong despite experiencing the biggest setback of his life—terminal illness. In fact, he increased his suffering. He aggravated his pain instead of treating it.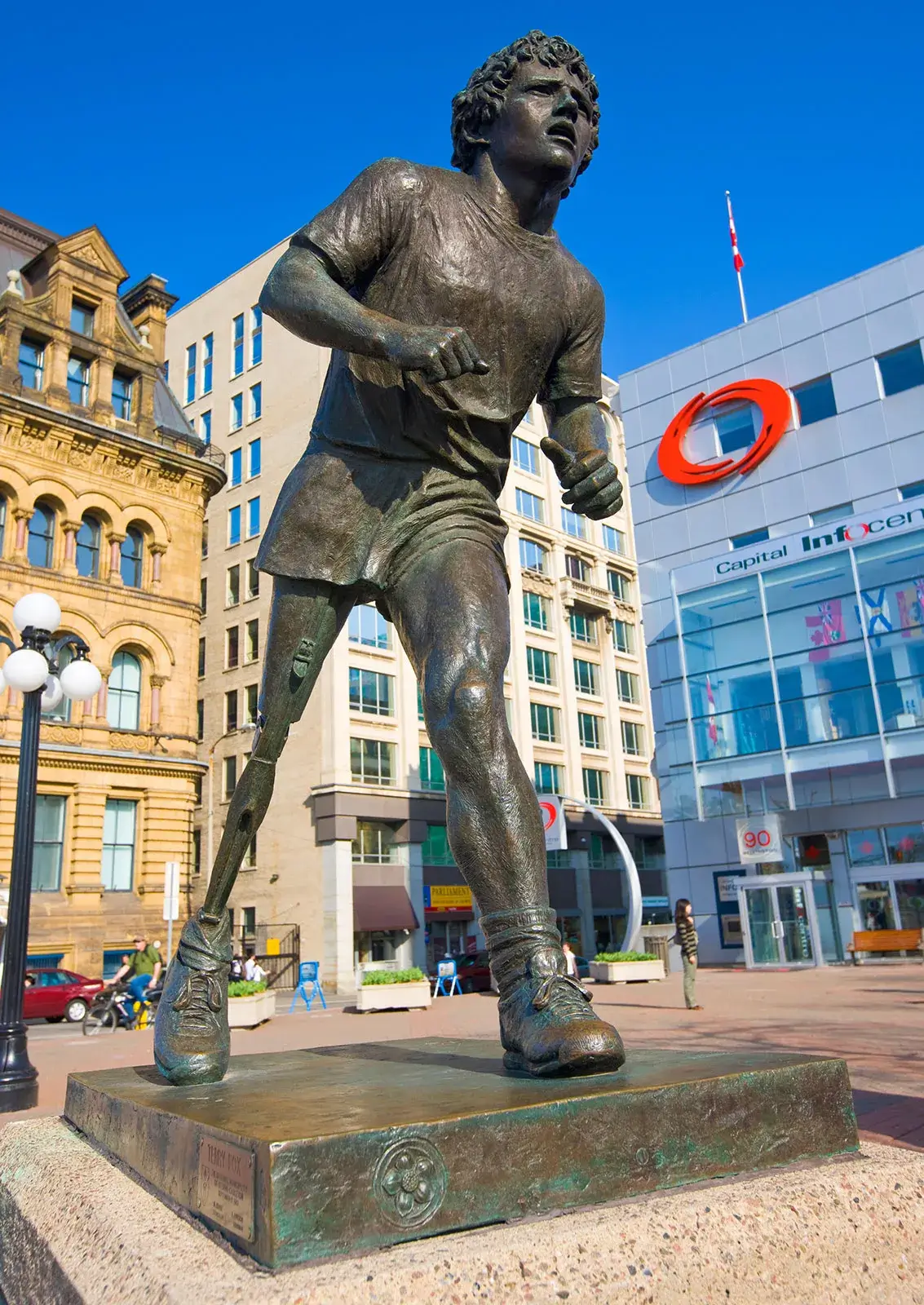 When I consider my own life, I search for relief from pain at the first sign of it. We frequently look for something to relieve our suffering, whether it be mental or physical. We look for a way out.
Terry instead searched for it. He stated:
"I got satisfaction out of doing things that were difficult. It was an incredible feeling. The pain was there, but the pain didn't matter."
That is a completely different mentality. Most people associate difficulty with being difficult. When things get challenging, they give up. But what if you adopted a different outlook?
You seek out adversity rather than fleeing it. I've been working on teaching my brain to enjoy challenges more. And let me tell you: it's not simple.
When you face challenges head-on, you truly understand why humanity avoids them. Comfort is simple. There is no effort needed. Anyone with average intelligence can comprehend that. But we don't consider that when we're in the middle of a difficult task. We search for the simplest solution.
It's challenging to establish a career, launch a business, work on a relationship, maintain good health, learn a new language, relocate, travel the world, and develop new skills.
But you shouldn't let that stop you. There is only one thing you can do if you want to live a life without regrets: Go all in.