For many years, people have been attracted to these spectacular-looking boulders because of their shape, components, location, or picturesque surroundings. Many of them are massive, and seeing them is an amazing experience.
From huge mountains and roaring waterfalls to deep woods and stunning beaches, we're spoiled for choice when it comes to natural wonders. Our focus in this article is on rock formations, which are a particular type of natural event.
For many years, people have been attracted to these spectacular-looking boulders because of their shape, components, location, or picturesque surroundings. Many of them are massive, and seeing them is an amazing experience.
1. Khao Ta-Pu, a.k.a. James Bond Island, Thailand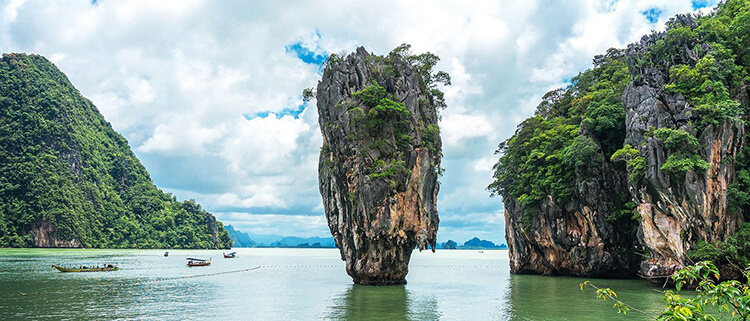 James Bond fans will remember this renowned rock in Thailand's Phang Nga Bay. This 20-metre-high limestone rock (whose diameter grows towards the top) is part of the Ao Phang Nga Marine National Park since 1981. As a result, boats are prohibited from getting too close to this spectacular limestone feature.
2. Hoodoos, North Mexico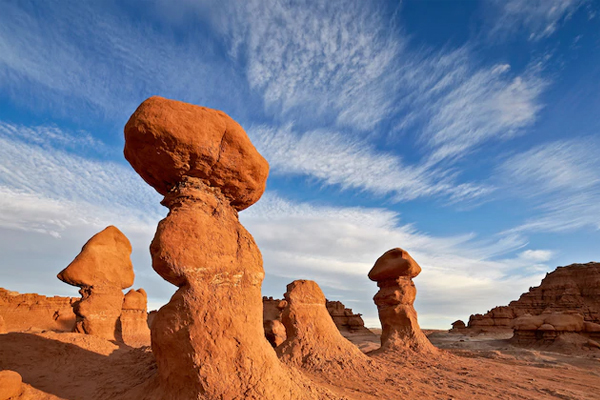 Hoodoos are one of the top 10 rock formations in the world, according to the National Geographic Society. Due to its distinctive shapes and sizes, Hoodoos draw thousands of tourists every year. Some of the most remarkable rock formations in the world may be found in the dry, desert region of northern Mexico. Rocks formed of sandstone that have been eroded over time have taken on the shape we see today. As small as 5 feet and as large as 100 feet, you'll find rock formations in the Hoodoos region. It's easy to see all the many layers that have been revealed due to the erosive process. As a result, the region was proclaimed a protected area.
3. Perce Rock, Canada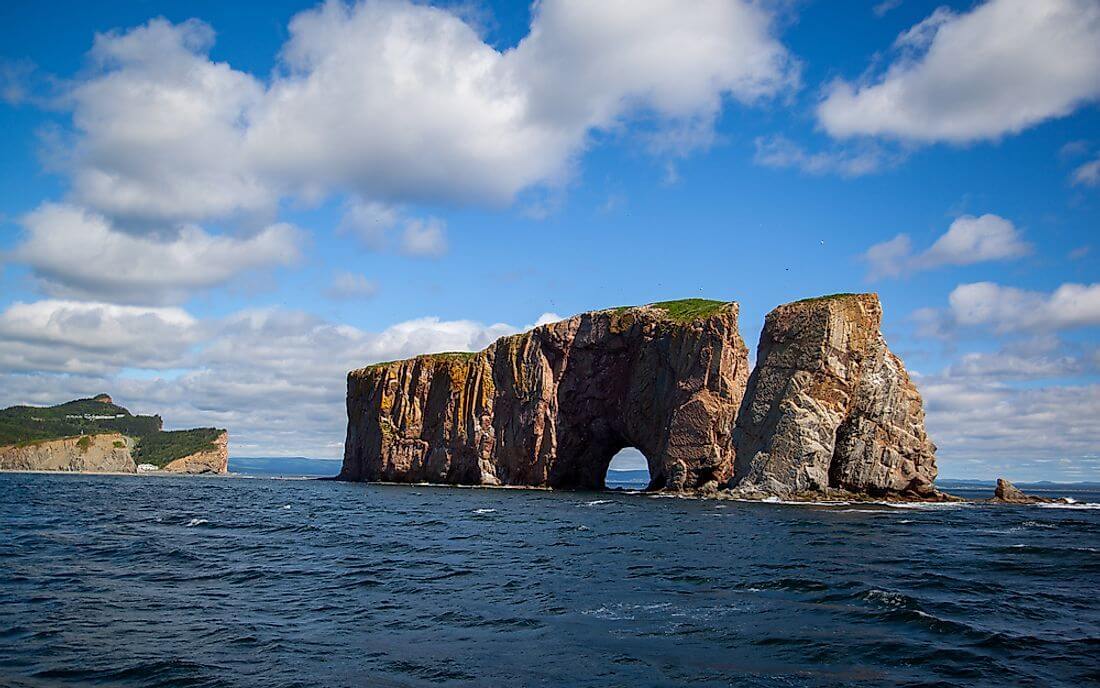 The reddish coloured rock, formed of limestone and shale, is a popular tourist destination in Quebec. Metamorphic rock formation, weighing 5 million tons. The 400 million-year-old granite formation is located in the middle of the sea, and it still looks great today. "The rock has the appearance of a lobster claw," he said. By ferry, you can reach the rock, although it's mainly for viewing purposes.
4. Giant's Causeway, Northern Ireland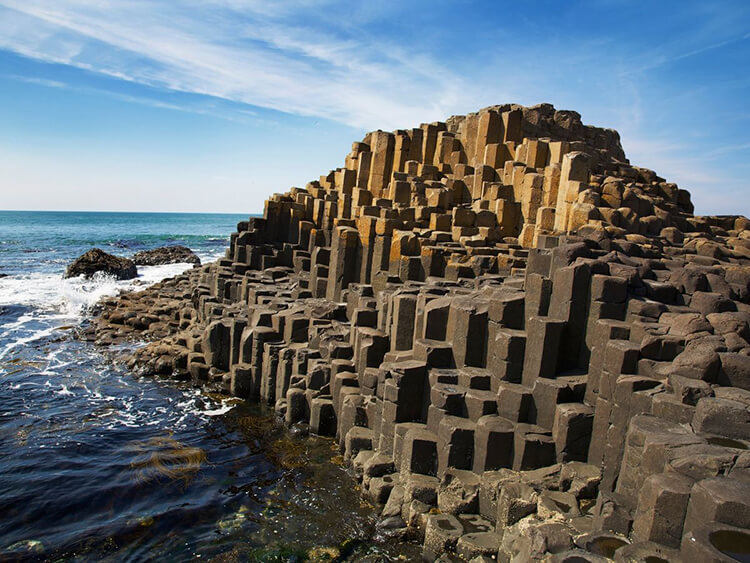 Located in County Antrim in Northern Ireland, Giant's Causeway is a beautiful example of the aftermath of volcanic activity. It is a UNESCO World Heritage Site. A total of over 40,000 interlocking basalt columns have been created by the rapid cooling of lava forced through fractures in the seafloor. Their hexagonal shape gives them the look of man-made creation. In Northern Ireland, this place continues to be a popular tourist attraction.
5. Horseshoe Bend, USA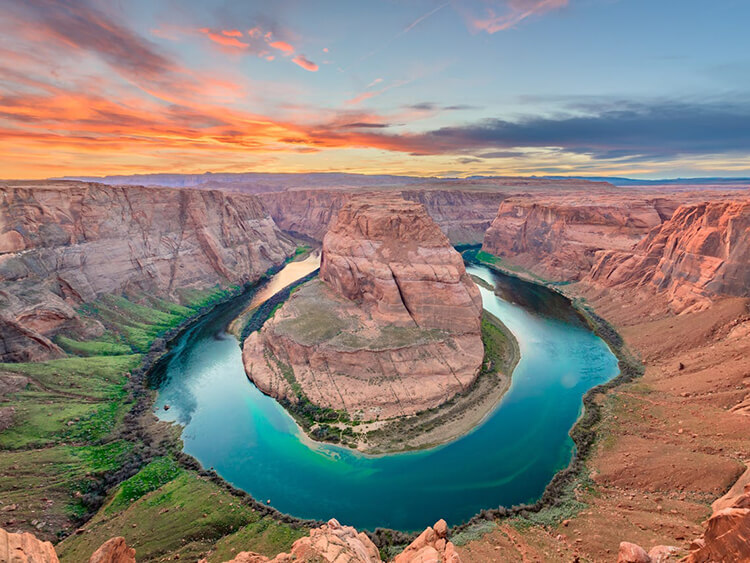 Horseshoe Bend is a natural wonder just outside of Page, Arizona. A deep valley in the sandstone has been created by the Colorado River over thousands of years.
As the sun's position varies during the day, the brightness of an image might shift dramatically. As there are no guardrails at the edge of the cliff, it can be a little frightening for tourists. For a different perspective, you might appreciate viewing the formation from a river raft.
6. Wave Rock, USA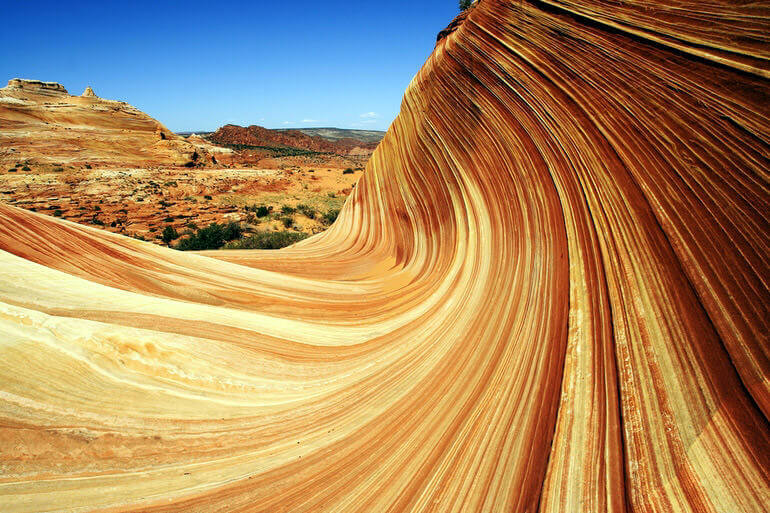 Wave Rock is another of Arizona's wonders. One of the most iconic rock formations in the world, this rock is one of the world's most photographed rocks. It is said to have a stunning, yet perplexing, view from the top of the hill. 20 tourists are allowed per day. The area is wonderful for hiking. A different vision of the complete place is shown with each stride and every viewpoint. Due to years of erosion and exposure to the sun, the rocks feature a variety of wave-like shapes. On this site, you can get some fantastic photos taken.

7. Nanya "Peculiar" Rocks, Taiwan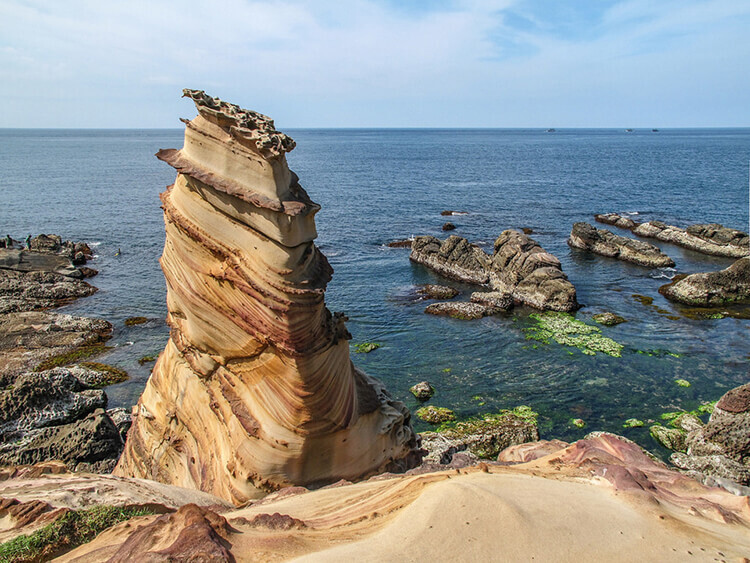 This spectacular rock structure is located on the coastal highway No. 2 at around 89 km. There are many interesting formations at Nanya, like the ice cream cone-shaped rock shown above.
8. Devil's Tower, USA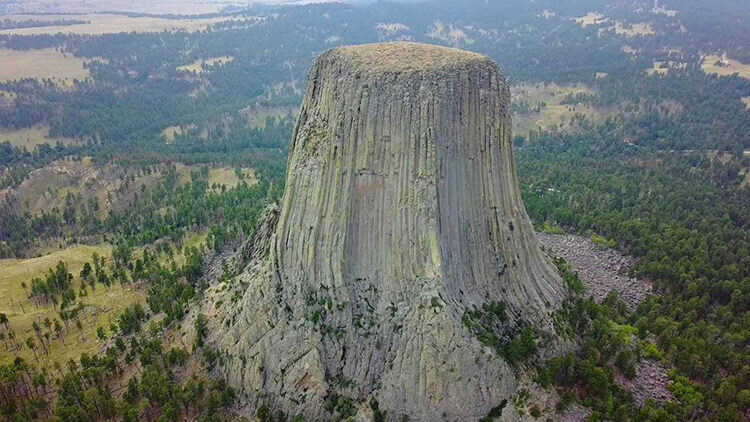 Devil's Tower is a prominent rock monument in USA and is well celebrated. The rock formation was the first to earn the designation of a national monument. For its unique qualities and importance in local traditions, the rock is famous. It's a common sight in the United States to see a tall tower of multiple-scaled rocks. Various local tribes, including the Lakota and other tribes, revere the rock as a sacred object. The formation of this rock is still a mystery. As a result of the cooling of lava and exposure to the atmosphere, most scientists believe that this rock was formed.
9. Mt. Tai's Immortal Bridge, China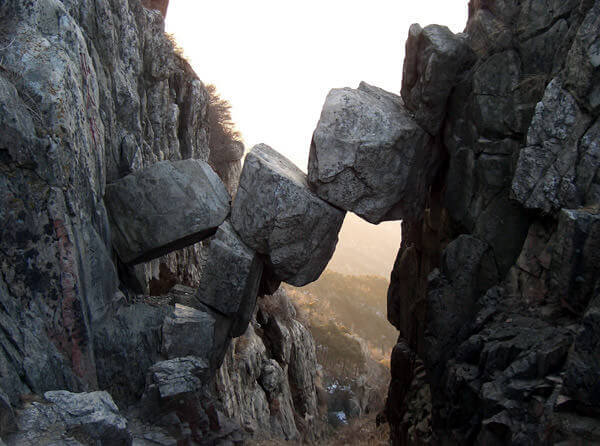 The rock structure on Mount Tai in Shandong province, China, is believed to date back to the Ice Age and is formed of three enormous stones and several smaller ones. "Immortal Bridge" was named after Mount Tai in China, a sacred mountain.
10. Painted Cliffs, Tasmania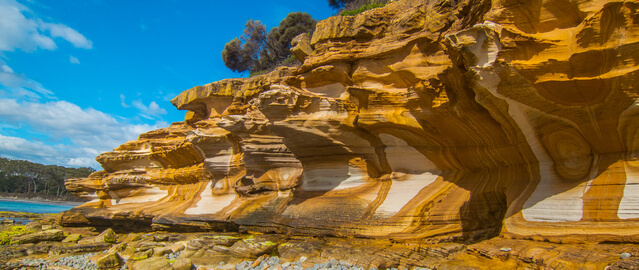 The Painted Cliffs on Maria Island in Tasmania are a must-see for anyone interested in geological periods. A 100-metre stretch of exquisite patterns was created by groundwater percolating through sandstone millions of years ago, leaving behind iron oxides. While honeycomb patterns have been produced as a result of the weathering of the crystals, they are still magnificent. Tourists are attracted to the area by the abundance of wildlife.
11. Palouse River, USA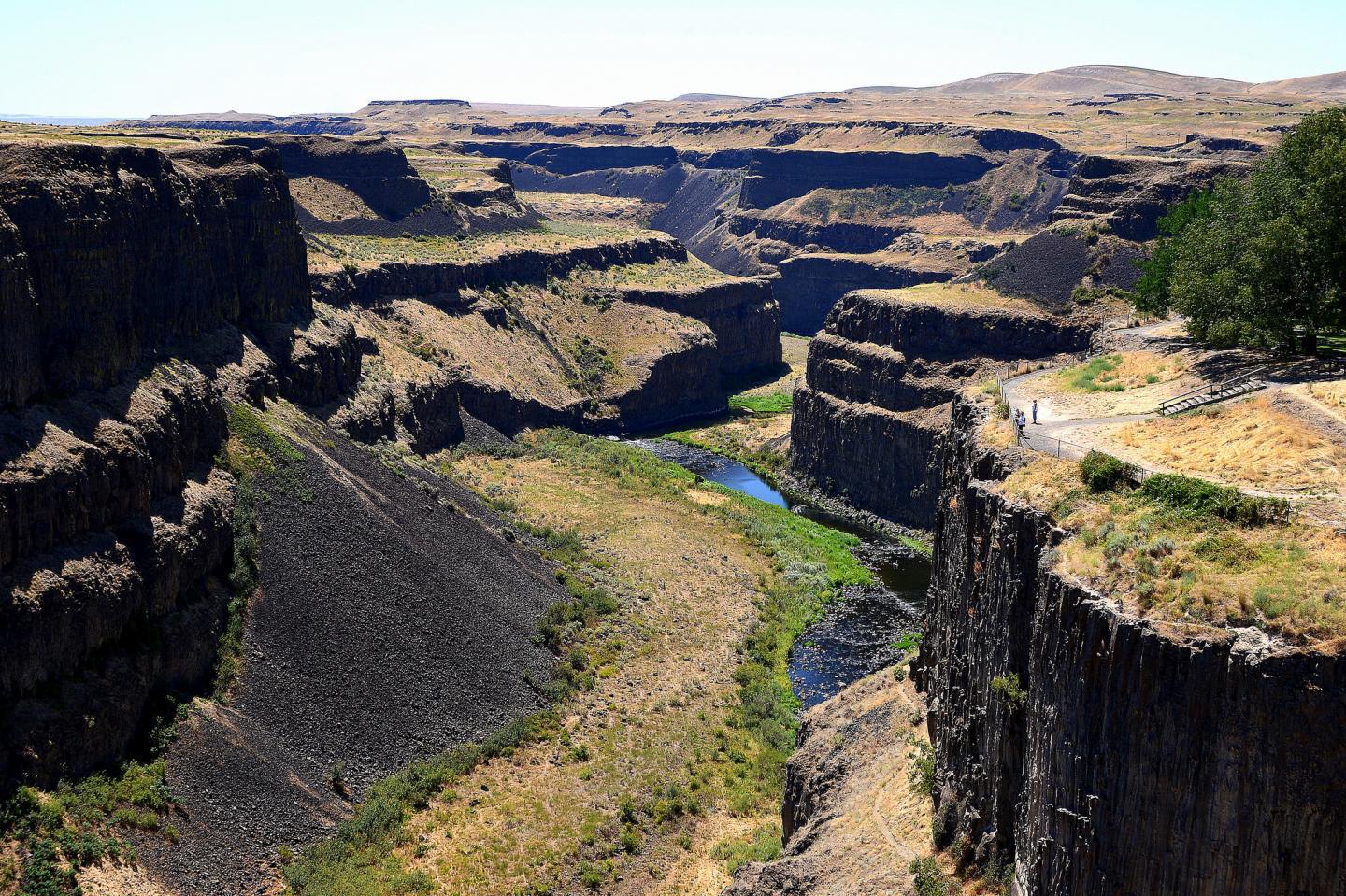 There may be a canyon in southeast Washington where the Palouse River runs through it. A combination of tectonic activity and erosion probably generated this canyon. Terraforming occurs when tectonic plates move under the Earth and force mountains and hills into place, creating landforms. As a result of erosion caused by water and wind, landforms like valleys and canyons can be formed. In both cases, the procedures take a long time, potentially millions of years to complete.