In 2004, a 10-year-old girl saved her family and 100 other tourists from the Asian tsunami because she had learned about the giant waves in a geography lesson, it has emerged.
Walking along the idyllic beach's soft white sand and calm turquoise water, Tilly Smith is thinking back to a much gloomier time spent here.
The 28-year-old can vividly remember every second of that day, which took place 16 years ago when a coincidence caused her to save the lives of her family as well as dozens of strangers.
Tilly earned the nickname "Angel of the Beach" as a result of her actions during the Boxing Day tsunami of 2004.
She was hailed as a "miracle child," and Bill Clinton even invited her to meet him.
Time has not been able to wash Tilly's painful memories of that tragic day or her worries about how nearly she lost her loved ones away.
As she stands in the exact spot where, at the age of ten, she realized a tsunami was about to hit the hotel where her family was staying, she fights back tears.
In her own words, Tilly says, "I keep thinking how different it all might have been if I hadn't seen what was about to happen if I hadn't started screaming.
"My sister, my parents, and I would have all been killed.
"And most of the other visitors here that day would also have been.
I will always be appreciative of how things worked out.
Her tale is truly amazing. In 2004, Tilly's parents, Colin and Penny, took her and her sister Holly, then seven, on the family's first vacation, to Thailand.
On Boxing Day, just after 8.30 am, the Oxshott, Surrey, family left for a stroll along Mai Khao beach in front of their hotel in Phuket.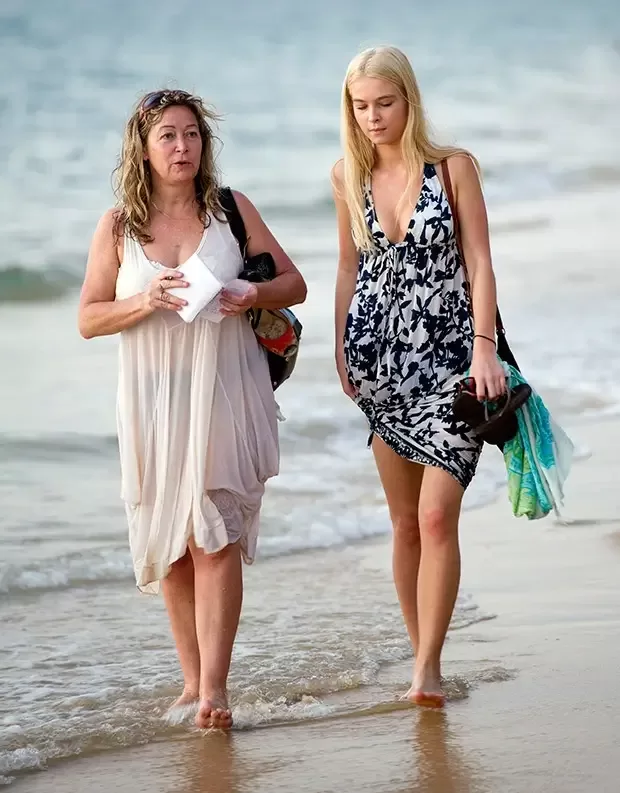 Fortunately, Tilly saw the warning signs because she had just two weeks earlier learned about tsunamis in a geography class at her school, Danes Hill, and it was only minutes away from one of the worst natural disasters the world had ever seen.
"Normally I was bored in geography class, but our teacher Andrew Kearney had really gripping video of a tsunami in Hawaii," she says.
"I started to feel really strange as we moved closer to the beach.
A particularly clear memory is of a group of Thai massage practitioners sobbing while holding each other close. The weather was cloudy.
"The waves were coming in but not leaving, and the sea was high on the sand. There was foam on the waves, and the water was "fizzing." I couldn't help but keep thinking, "I've seen this somewhere." I had a horrible feeling that something bad would occur.
"I started to say that to my parents, but they cut me off and insisted we go on because they said, "Don't be silly, Tilly, the weather's just bad. I then noticed a log turning continuously in the water, and then it hit me: tsunami.
"Everything I was observing was depicted in the geography class video.
They were warning signs that a tsunami was imminent.
Few people in the West had heard the word before the tsunami struck Thailand, including Tilly's parents.
I began shouting, "Tsunami, there's going to be a tsunami," she recalls. Of course, they had no idea what I was referring to.
"By this time, I was in utter panic and was actually yelling, 'We have to get off, we have to run. Holly, my sister, freaked out and began sobbing hysterically. In an effort to calm her down, my dad chose to walk back to the hotel with her, but my mother insisted on staying.
She carried on moving. The distance between us and the hotel was growing. "Please, mom, please come back with me," I cried. I remember seeing people in the water and on the beach and thinking, "We're all going to die. If you don't come back with me, you won't survive."
She continues, "We'd reached here and I begged my mom to stop. You can see a yellow lifeguard hut over half a mile from the hotel.
"I started to run back to the hotel even though I didn't want to leave her.
"When I arrived, my father was talking to a Japanese security guard while standing next to him and saying, "I know this sounds completely crazy, but my daughter says there will be a tsunami.
"Tsunamis are well-known in Japan, the guard remarked, "I believe she is correct.
"He then informed us that a significant earthquake had occurred in the Indian Ocean. I responded, "Yes, yes, tidal wave or tsunami! He began yelling at those on the beach to leave.
"There were people in the pool and a family kayaking in the ocean. There was utter panic, and everyone started running.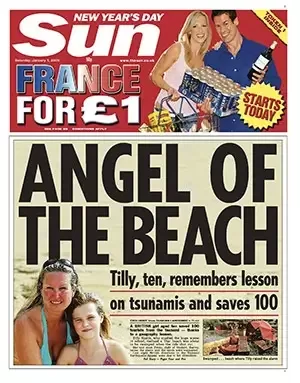 We began yelling at Mum as she ran back; I was hoping she would survive as she was among the last people to leave the beach.
"I noticed the sea had completely dried up by that point, and I knew the tsunami was directly above it. I yelled, "Run! Run! at everybody. I recall screaming children and families. A wall of water was moving in our direction.
"I lost sight of my father and sprinted toward the high-floor hotel lobby. The hotel was flooded with water. Crashing, banging, and the roar of the sea could be heard.
"In the lobby, there were hundreds of screaming people. People simply lacked direction. I warned people that we needed to stay on high ground because I knew there would be aftershocks and additional waves.
"Thank God, Mum was with Dad when I found him. We all sobbed and tightly embraced one another.
The family didn't realize how fortunate they had been until afterward, when they watched television reports of the destruction.
Nobody died on our beach, Tilly explains. Until we saw the news, we were unaware that thousands had arrived in Thailand. My father was only startled. What if we hadn't listened to you, he kept asking? '"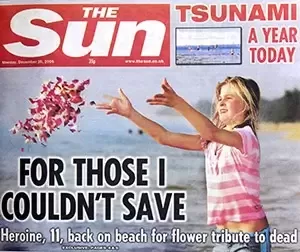 The Sun was the source of Tilly's incredible tale at the time of the tsunami.
She became a household name thanks to her bravery and foresight. She was given the title of Child of the Year by a French magazine, and the UN invited her to meet Bill Clinton, who was the organization's Special Envoy for Tsunami Relief at the time.
However, she modestly asserts, "I don't feel like I was a miracle child. I'm just so grateful that the lesson was taught to us. I'm just relieved that I was able to save both my family's and others' lives.
Her family wanted to return home to Surrey immediately following the catastrophe, but they were forced to stay at the resort for a number of additional days.
We were transferred to a hotel that was on higher ground, according to Tilly.
"I recall a young girl being brought there who had been injured and battered. She experienced trauma. Her entire family had perished.
"When an English DNA team was brought in to help identify bodies, I recall that they would sit in silence at night while trying to process what they had seen.
"We didn't really want to attend the hotel's New Year's Eve party, but the staff pleaded with us to because they warned that Thailand wouldn't recover if we didn't.
"One waiter was sobbing, and my dad saw that all of his family had perished. Despite this, he insisted that he continue working, claiming that it was helping him.
I was only ten years old at the time, but I do remember everything.
Tilly recalls that there were a lot of people crying on the plane when they finally flew home. The pilot once prompted those who had suffered a loss due to the tsunami to raise their hands. There were numerous hands, she says quietly.
Later, my father revealed that he had been thinking, "That could have been us. With all of my family gone, I might still be here.