Major Claude Hensinger jumped out of a B-29 bomber during World War II when the engine caught fire. He was saved by his parachute. Later, he requested that his fiancée Ruth make him a gown out of the same parachute. The dress is now on display at the Smithsonian Institute.
Ingenious brides from all over the nation showed their creativity and support for the war effort by making wedding gowns out of parachutes during World War II. Because it was difficult to find fabric for bridal gowns, brides learned to improvise or go without. The white nylon or silk fabric became surplus if a parachute was rejected for any reason, and parachute manufacturers were held to high standards. Many brides used that extra fabric to make their wedding dresses. This is the tale of a bride who married in a parachute during World War II.
The Navy created WAVES (Women Accepted for Volunteer Emergency Service) in the summer of 1942. By assigning enlisted women to their onshore positions in place of men, WAVES hoped to free up men for sea duty. Massachusetts native Janet Gleason, age 20, made the decision to join the WAVES. She worked as a Parachute Rigger Second Class at Joint Fort Dix Army Air Force Base in New Jersey.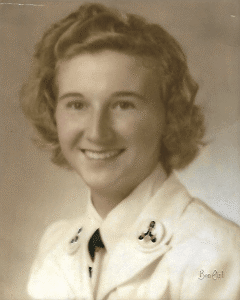 Reo Arland Casper, a 19-year-old native of Idaho, signed up for the draft that same summer. He soon joined the US Marines and was accepted into their top paratrooper training program. 40% of potential submariners failed the rigorous fitness test required for enrollment in the program. They were also forbidden from getting married. Reo received specialized training at Fort Dix before being elevated to the rank of Sergeant.
In the classroom, where Paramarines and Navy WAVES both attended training, Janet caught Reo's attention one day as they were learning how to fold and pack a parachute.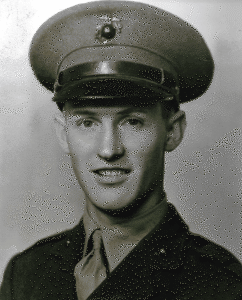 They became good friends. Reo and Janet loved attending concerts at Radio City Music Hall and taking long walks in Central Park. They quickly fell in love. Reo had finished his training and was getting ready to leave for another country. He had one more jump to make before graduating, and Janet packed his chute with care. Reo prepared to ship after receiving orders. He requested Janet's hand in marriage before departing. As soon as the war was over, they intended to get married.
Reo and Janet consistently wrote each other letters and hoped to be reunited someday. Given that she couldn't afford a wedding gown, Janet's commanding officer gave her a Japanese silk parachute. The stunning silk was the ideal material for a wedding dress.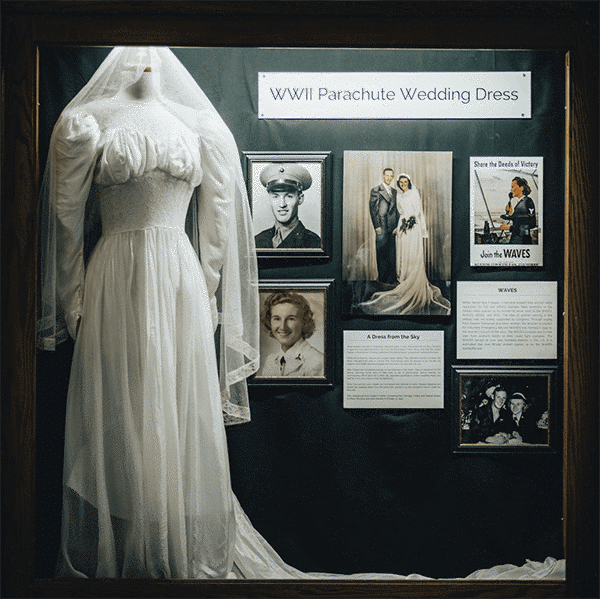 Janet created and sewed her wedding dress then carefully storing it away while she awaited the end of the war. Reo finally experienced that day on October 19, 1945, when he traveled back to the country for his formal discharge in California. He made plans with Janet for them to meet up in his native Idaho. After three years, Janet boarded a train, bringing them back together at last.
The couple faced difficulties as their wedding preparations got underway when Reo's mother objected to the wedding. She was worried about the couple's contrasting religious beliefs. Reo and Janet decided to elope on October 31, 1945, after traveling to Dillon, Montana. After meticulously designing and sewing a wedding gown from a parachute, Janet was finally able to wear it.
The marriage between Reo and Janet lasted 58 years. Reo died in 2005, a year after she did in 2004. The historical dress was later worn by both their daughter and their son's bride, and today is housed at the Smithsonian Institution as a significant item in American History.
The story of parachute wedding dress
During an unsuccessful WWII mission, Maj. Hensinger, a B-29 pilot, managed to save both the parachute and the groom. He was returning to an Allied base in August 1944 after bombing Japan's Yowata city when his engine caught fire. Over China, the entire crew was forced to jump ship, and that's when the life-saving epic parachute opened. That night, as Hensinger waited for dawn, it also served as a blanket and a pillow.
Fortunately, the crew was able to reunite the following day, and they were welcomed by hospitable Chinese. Maj. Hensinger made it back to the US safely, and when the war came to an end a year later, he moved back to his home state of Pennsylvania, bringing his life-saving parachute with him.
Once Claude was back in the real world, he made the decision to find Ruth and start dating her. When it came time to make the marriage proposal, Ruth was surprised to see Hensinger on his knee instead of offering a ring but the priceless cloth that had helped him during the war.
"This is the parachute that saved my life. I want you to make a wedding dress out of it," he said.