Like scenes from a blockbuster movie, Andre Stander robbed Banks during his lunch breaks and returned to the scene as the lead investigating officer
Andre Stander was without a doubt the most notorious bank robber in South African history, but his story has received very little attention in the media.
There have been numerous conspiracy theories as to why this is, with some claiming that it is because he was white, while others feel that Stander's story has been pushed down the history books because he was a cop who took advantage of a legal technicality. Others think it has something to do with his surname and father, who was a Major General.
Whatever the cause, it's not worth hiding the story of a white South African police officer who intimidated banks between 1977 and 1980 while keeping his job as a cop and investigating his own robberies.
Andre Stander was born into a law-abiding family and was the son of Major General Frans Stander, a well-known prison official in South Africa. He wanted his son to follow in his footsteps, so he assisted him in joining the military.

According to records, Andre had no desire to engage in law enforcement and only became a cop as a result of his father's pressure.
Apartheid was at its height in South Africa at the time, and Andre, like other white South Africans, enjoyed the benefits of being white. His father's influence helped him ascend through the ranks, but he led a wild life that was a shame to the uniform.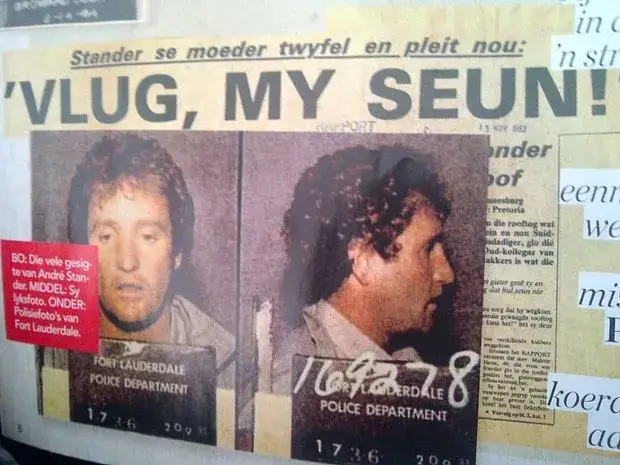 Available records state that:

"One fine morning in 1977, he handed out assignments to his squad and headed to the airport in Johannesburg during lunch break."
"He flew to Durban, put on a false wig and beard, walked into a bank and pulled a gun on the cashier, but very discreetly, handed her a bag and asked her to fill it up with cash."
"She did as she was asked. Andre did not threaten anyone else in the bank nor did he brag about having a gun. No one else realized what had happened. He quietly walked out, drove back to the airport and flew to Johannesburg post lunch and carried on with policing."
Between 1977 and 1980, Andre Stander made roughly R100,000 before being jailed in January 1980 for robbing a bank in Durban.
He was sentenced to 75 years in jail after being found guilty of 15 charges of robbery. But, because he was facing many counts at the same time, he was sentenced to 17 years in Zonderwater Maximum Security Prison.
Andre Stander became friends with Allan Heyl and Patrick McCall, two other inmates who were also bank robbers, while in prison.
The trio devised a plot to break out of prison, and it was successful.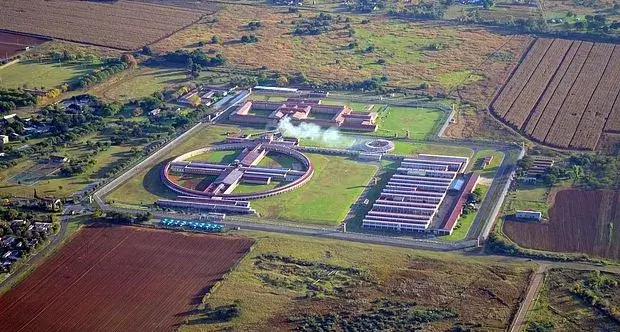 "In 1983, Andre and Patrick complained of back pains and were sent to a physiotherapist. While at the clinic, they overpowered a few guards and escaped in the doctor's car and a couple of months later they went back to the same prison to break Heyl out. The three buds holed up in a safe house in Houghton."

It's still a mystery how this was all made possible. After being set free, the three bank robbers went right back to work, robbing more than 20 banks in less than two months and making off with almost R500,000 in cash.
They became known as the Stander Gang as a result of their celebrity, and it was fame, money, and girls that led to their end.
Their images were soon published in every newspaper, causing them to flee South Africa. Andre headed to Florida to finalize plans, while Heyl and McCall planned to cruise there in a newly purchased yacht.
One of the prostitutes who had previously spent the night with them recognized their photos in the media and alerted the cops. McCall refused to leave the hideout despite Heyl's flight. When the cops arrived, he ended up killing himself.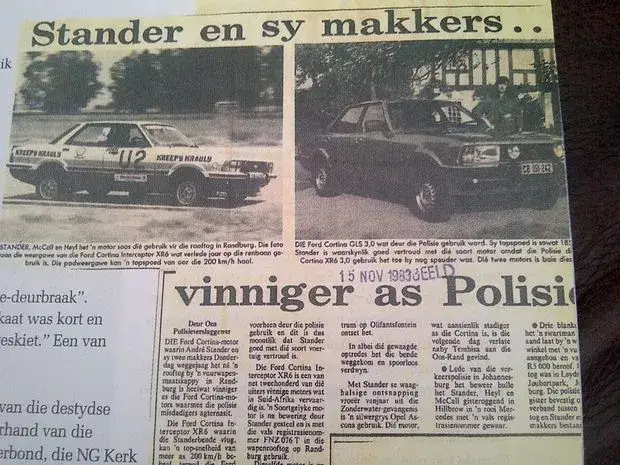 By February 1984, the South African government had issued international warrants, which led to Heyl's apprehension in the United Kingdom in 1985, where he continued robbing banks before being brought back to South Africa to finish his term. He was released from prison in 2005 and has since worked as a motivational speaker.

Before Heyl was arrested, Andre Stander was in the United States. He was arrested one night while riding his bicycle back to his hideout; during a scuffle, he attempted to reach for the police officer's pistol and was shot. Before the cops arrived, he had bled to death.