Nathan "Nearest" Green was an African-American head stiller who is now more frequently referred to as a master distiller. He was renowned for imparting his distilling knowledge to Jack Daniel, the creator of Jack Daniel's Tennessee whiskey distiller, after Jack Daniel was freed from slavery following the American Civil War.
The New York Times published a story in 2016 about the distiller's "hidden ingredient" - "help from a slave." In the article, the brand acknowledged that an enslaved man, Nearest Green, taught Jack Daniel how to make whiskey. Scholars, researchers, and journalists have descended on Lynchburg, Tennessee, in the hopes of learning more about a man who had previously appeared as a mere footnote in the story of the country's most popular whiskey brand.
I was really interested in these developments as a tourism scholar whose work emphasizes counternarratives and underprivileged people.
I wanted my students to learn more about Green because so many voices and images of enslaved Africans and Black Americans have been silenced or removed from American history textbooks and heritage tourism sites. In the fall of 2020, my critical sustainable tourism students produced a short documentary called "Uncovering Nearest."
Black culinary innovation
The ways in which Black Americans have contributed to some of America's most iconic meals and spirits have finally begun to be acknowledged in popular media, thanks to programs like Netflix's "High on the Hog: How African American Cuisine Transformed America."
For instance, Thomas Jefferson's slave chef, James Hemings, accompanied Jefferson on a trip to France in 1784 where he received the finest training in French cooking. He ultimately had a key role in popular American foods like ice cream, French fries, and macaroni & cheese becoming household names.
Later, James Hemings prepared his younger brother Peter to succeed him. Peter Hemings began learning how to brew in the fall of 1813, and it's possible that he was the first Black person in America to receive professional training as a craft beer brewer.
This was a forced way of life for James and Peter Hemings; they weren't casual chefs or beer enthusiasts. And those who created new cuisines while being held as slaves had no intention of altering American cuisine. Simply put, they had to get by with what they had.
The ingredients and culinary know-how for such intricate and time-consuming delicacies as oyster stew, gumbo, jambalaya, and fried fish were introduced by enslaved cooks. However, in cookbooks, where their white owners earned credit and praise, their voices, names, and creations were frequently ignored.
Nearest's legacy unveiled
One name has now come to represent whiskey: Nearest Green.
Author and entrepreneur Fawn Weaver was inspired by a 2016 New York Times article to embark on a 12-month research project that involved more than 20 historians, archivists, archaeologists, conservators, and genealogists in order to uncover Nearest Green's whole narrative.
Her efforts have helped to paint a more complete picture of Green's legacy.
Midway through the 1800s, Landis & Green, a company, "loaned out" Nearest Green to the Rev. Dan Call, a local minister, for a charge. This was typical in a time when the production of spirits was frequently carried out by enslaved men because of its reputation as hazardous, dangerous employment.
Nearest was a well-known distiller with expertise in the Lincoln County Process, often known as sugar maple charcoal filtering. This process gave Green's whiskey a distinctive smoothness and, according to some historians, may have been inspired by the methods used by enslaved people in West Africa who used charcoal to filter their water and purify their food.
Years later, a white 7-year-old orphan named Jack Daniel was brought to the Call farm to perform chores. Eventually, he was made Green's apprentice and taught the Lincoln County Process, which distinguishes Tennessee whiskey from bourbon; as a result, Nearest is credited with creating the Tennessee whiskey we know today. According to Victoria Eady-Butler, a former employee of the Jack Daniel's Distillery and a descendant of Green, "Jack Daniel's would never have been manufactured without a Green on the land."
Call surrendered his distillery to Jack Daniel after being free. Nearest Green, who was by this time a free man, was chosen by Daniel to be the first master distiller of the Jack Daniel Distillery and the first Black master distiller in American history. Weaver found that Daniel Green moved his distillery to its current Cave Spring Hollow location sometime around 1881, and some of Green's children and grandkids started working for him there.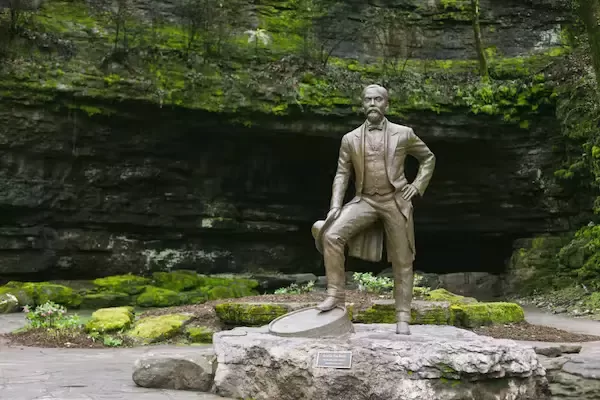 George and Eli Nearest, the second and fourth sons of Nearest, produced whiskey on the Call Farm alongside Jack Daniel. While there are no pictures of Nearest Green, a picture of one of his kids, George, seated next to Jack Daniel, does exist.
The Nearest Green family has worked for the Jack Daniel Distillery for a total of seven generations and still does.
A whiskey brand of their own
Over the years, Jack Daniel and his offspring profited greatly from their whiskey business. The family sold it to Brown-Forman in 1956 for US$20 million, approximately $190 million in modern currency.
Although the Daniel family does seem to have adequately compensated Nearest Green and his ancestors, they did not own any of the distillery and did not receive any of the millions.
Even though, after the Civil War, census data showed that Nearest Green and his family owned sizable plots of land and were wealthier than many white families living in Lynchburg, Tennessee, for decades Nearest Green's name, legacy, and contribution to whiskey were largely unknown to anyone outside of Lynchburg, Tennessee.
During her research, Weaver had the chance to interact with Green's ancestors, and she asked them how they would like to see him remembered. They advised her that "it would be excellent to put his name on a bottle, letting others know what he done."
Weaver got the idea from this to create her own whiskey business in Green's honor. She had acquired $40 million in funding from investors by the year 2019 to launch Uncle Nearest Premium Whiskey. She opened the Nearest Green Distillery in Shelbyville later that year. With Victoria Eady-Butler, a niece of Green's, working as the distillery's master blender, Weaver is now the company's CEO.
A movement by academics and tourism agencies to broaden marketing and storytelling in ways that incorporate ignored or repressed views includes locating and lauding tales like Green's.

To better understand the travel experiences of Black people and other people of color, Nomadness Travel Tribe teamed up with Tourism RESET in 2020, where I work as a co-director and research fellow, to publish a report th at included both qualitative in-depth interviews and quantitative survey of more than 5,000 tourists.
In the meantime, the History of Black Travel timeline and website, which was just unveiled by the Black Travel Alliance in collaboration with Tourism RESET, aims to inform the public about "how the African diaspora journeyed to every area of the Earth."
It is hoped that these initiatives will foster conversations about touchy subjects like race and slavery while genuinely appreciating and elevating the perspectives and contributions of Black Americans who helped to create the United States.
And ideally, more accounts of individuals with lives as rich and complex as those of Nearest Green, a successful Black guy, will come to light.