Before women were allowed to run in the Boston Marathon, Kathrine Switzer participated. A race official attempted to forcefully remove her from the race in 1967, but her boyfriend pushed him down. She was the first female finisher who had a numbered entry in the race.
Kathrine Switzer was attacked by a race official 1.5 miles into her first Boston Marathon. Women didn't compete in marathons in 1967. At least not formally.
Running up behind Switzer, the race official yelled and grabbed her sweatshirt. He was making an attempt to remove her race number-adorned bib.
"The race director attacked me simply because I was a woman and because I was wearing a bib number," Switzer told Humankind. "He was angry because he was an overworked race director, and frankly, he was a product of his time."
Switzer attended Syracuse University as a student. She had been jogging since elementary school, but there were no women's sports at her institution.
Switzer recalls, "I went and asked the track coach if I could run on the men's track team." He responded, "No, I don't believe so. Switzer accepted the invitation to train with the squad, saying, "That's against NCAA rules, but we'd welcome you to come work out with us."
Arnie Briggs, a volunteer coach, was 50 years old. He was a former marathon runner as well as Syracuse's mailman. He took me under his wing and gave me daily advice on how to run farther and not stress about running quickly, according to Switzer.
Briggs talked to them about running the Boston Marathon as they were moving along.
He responded, "No woman can run a marathon!" when Switzer told him she planned to participate as well.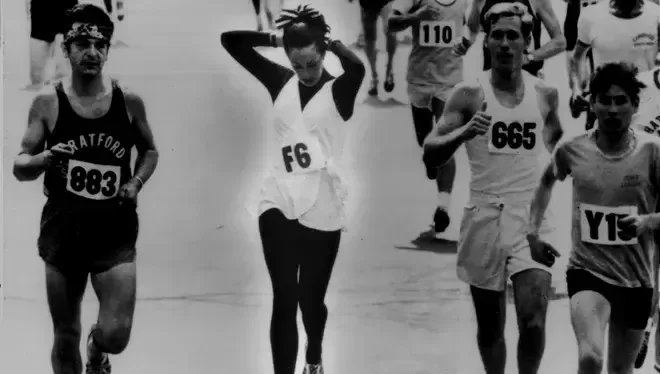 Even though she was stunned, Switzer persisted. She was promised by Briggs that he would be the first to take her to Boston if she could demonstrate to him in training that she could complete the 26.2 miles. Switzer eventually far outran the 26.2 miles in practice, thus the wager was accepted.
No woman had ever officially registered for or participated in the Boston Marathon before 1967. Switzer examined the marathon's regulations. She registered as KV Switzer with no regard for gender.
For a very long time, Switzer recalls, "I've been signing my name with my initials." "My loving father misspelled my name on my birth certificate. I signed my name that way since I wasn't trying to deceive them.
Switzer lined up with hundreds of other guys at the 1967 Boston Marathon's starting line while donning bib #261 and a coat of lipstick. Soon after the starting pistol had fired, Jock Semple, the race official, pursued her.
This brief incident changed the course of women's running forever. Switzer was inspired by the incident and started advocating for women's sports equality.
Women were finally permitted entry to the Boston Marathon five years after her encounter with Semple. On that momentous day, Switzer was at the starting line.
She continued to run marathons, winning the 1974 New York City Marathon. In 1975, she ran her personal best and came in second in Boston (2:51:37). After that, she established the Avon International Running Circuit, a series of 27 races for women only. Over a million women have participated since 1978.
The International Olympic Committee decided to incorporate a women's marathon for the first time in the 1984 Olympic Games thanks in large part, according to Switzer, to the momentum women's running gained due to her efforts.
According to Switzer, "sometimes the worst things in your life might turn out to be the best."
One of the most astonishing social revolutions for women was brought about by old Jock Semple, who no one could have ever dreamed could have done it.
The Boston Athletic Association formally retired Switzer's bib number 261 in 2017, but not before the number had a life of its own. With the goal of inspiring women to connect and take charge of their lives through running, Switzer founded the international non-profit organization 261 Fearless.
Switzer's decision to participate in the 2017 Boston Marathon coincided with the retirement of her historic bib number.
When I turned 70 and it was the 50th anniversary of my 1967 marathon, Switzer remarked, "I found myself approaching those milestones with the belief that I could run it again."
Only 20 minutes later than when she was 20 years old, she completed the task.
Switzer added, "I crossed the finish line with the feeling that we have altered history. "In fifty years we have gone from one woman wearing a bib to twelve thousand women wearing a bib here on the streets of Boston."
"I felt like I had successfully carried a torch to the millions of women who have had their lives changed by running throughout the world," the runner said.